Sovaram Bysack- The lost icon of Bengal, was a wealthy businessman and a philanthropist. He was one of the earliest settlers of Kolkata. In the year 1690A.D. when Job Charnock landed in Sutanuti, the same year Sovaram Bysack was born in Kasimbazar near Murshidabad. He belonged to a wealthy family of textile traders. His earliest known ancestor Keshob Ram earned the surname "Busakh" from the Mughal Emperor Akbar during his reign in the 16th century. One of the wealthiest business tycoons of his time, Sovaram featured in C.R. Wilson's list of top businessmen of contemporary merchants. The success of Sovaram and the Basak family has faded with time, but the fragrance still lingers…
The fragrance of the Mughal!
"Busakh" is a Persian word — "Bu" meaning fragrance and "sakh" meaning branch or lineage. So, one who was given this title was a source of fragrance to the Mughal clan. With the course of time, the title changed to "Bysack" and then to "Basak" as it is commonly addressed presently
A flourishing trade of textile and wood
Sovaram's earliest known ancestor Keshob Ram was a well-known textile merchant, who traded in muslin and silk. He used to import silk from China in huge quantities for making cloths for the Mughal royalty and army. This earned him respect and wealth from the Mughal Court.
His only son Kalidas Bysack was amongst the first few businessmen to settle in Kalikhetra, the area around Kalighat temple in 1537A.D. along with his friend Mukunda Ram Sett. It is Kalidas who expanded the family business. He had established a Silk factory (Resam Kuthi) in Mursidabad and a textile factory in the area near Shahid Minar, in present day Kolkata. He also started a business of wooden safes. However, he continued to trade in silk and muslin with Mughal royalty in Agra.
This lineage of textile and wood continued for ten generations
Kalidas's son Gobindaram his grandson Jadavram and his great grandson Ratnakar were all textile and wood merchants. Ratnakar had two sons Raghab Chadra and Debidas. Debidas settled in Murshidabad and Raghab Chandra in Gobindopur (present Kolkata). Debidas used to send textile from Murshidabad to Raghab Chandra in Gobindapur. The next four generations of the Bysack's were all engaged in this family business of textile and wood and helped expand it.
Establishing the Dutch connect
Sovaram Bysack's father Ganga Narayan Bysack, who was also known as Ganga Ram was Keshab Ram's tenth generation. He had two sons, Sovaram and Ajodhyaram. He continued operating the family business from Kasimbazar. In 1676A.D., he, started business with the Dutch in Sreerampur.  He brought them silk, cotton fabric, bamboo, indigo, sugar, and spices in exchange for wool and metal objects. Business flourished and the Dutch connect helped Gangaram harness enough wealth in a short time. He even bought shares worth rupees fourteen lakh from the royal company of Netherlands!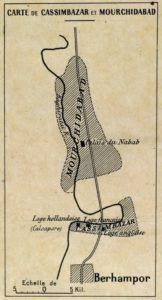 Fair weather soon took a turn for the worse
The good things did not last long. The Danish and British didn't like the intimacy between Gangaram and the Dutch. Eventually, the British businessmen made it difficult for Gangaram to live in Kasimbazar and he was forced to move to Holudpur in Saptagram around 1700A.D. In 1714A.D., the Dutch had a dispute over tax with the Nawabs. Things got worse and they had to leave Bengal closing their business down. Gangaram lost his entire investment of fourteen lakhs! This was the first time in the history of share market that a Bengali businessman sustained a loss of such colossal magnitude!
"Bon jour!"— to a new chapter
The French started trading in Sreerampur after the Dutch left. Gangaram's son Sovaram started helping the French merchants with trade. He was only twenty four years when his father lost his shares worth fourteen lakhs. From 1714 – 1718A.D. the Bysack family went through a major financial crisis. The French trade flourished at Sreerampur and Chandannagar during 1718A.D. Sovaram helped the French to identify the best qualities of textile and spices and used to decide the best rates for them. He became their trusted advisor. His brother Ajodhyaram who was settled in Kasimbazar used to supply him with various kinds of fabrics, textiles and yarn for the trade, which he sold to the French businessmen.
Do keep a watch for our upcoming Episode 2!