After the battle of Plassey the British wanted to build a new fort in Govindapur, for which they acquired land from the settlements of natives like Nayanchand Mullick, Neel Moni Mullick, Baishnab Charan Seth and Sovaram Bysack.  Sovaram shifted to Barabazar, with his family and settled there.
He left behind a legacy of business that was pioneering. However, Sovaram did not just leave behind a legacy of business and wealth, he left behind a legacy of benevolence.
The forgotten Jagannath Temple at Kolkata
It has been found that some high priest known as Das Babaji travelled from Puri to Kolkata by foot to establish the deity of Jagannath. He met Sovaram during his stay and Sovaram proposed to establish the deities in his temple. Sovaram made the temple on Five thousand and forty Square feet (Seven katha) land, he also donated Three Thousand and Six Hundred Square Feet (5 katha) of surrounding land in the deity's name and built a compound around the temple. Das Babaji became the main priest at the Jagannath temple.
The stone cut doorway with arches had a lion sculpture on either side. The temple gate was made of wood with brass engravings. The temple was built in the same style as the Jagannath Temple of Puri. The temple was later remodeled in red stones bought from Chunar in Bihar. This 250-year-old temple now stands unrecognized. It is surrounded by shops and double story buildings. A peak of the main temple peeps out from between the buildings from its northern side. The temple is no more associated with the Bysack family now.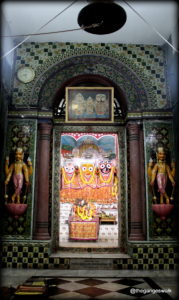 Jagannath Ghat
Sovaram even constructed a bathing ghat just beside the temple for the ease of people wanting to take a dip in the holy river, which flowed just beside the temple. It was called "Sovaram Bysack Bathing Ghat" and was later renamed as "Jagannath Ghat." The ghat was demolished as the river shifted over time.  This ghat was later rebuilt and presently stands just beside the flower market in the northern side of Howrah Bridge.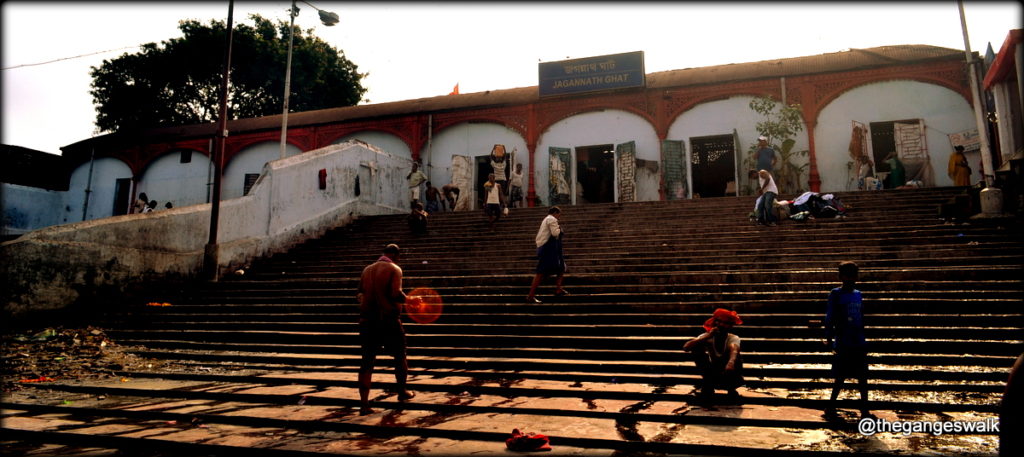 Rath Yatra
Sovaram also organized a grand procession on the occasion of Rath Yatra. The Jagannath Rath (chariot) that he owned was made of Brass and was 70 ft tall. The chariot resided in the garden of Chaitanya Charan Bysack, under the shed of a big banyan tree all around the year. Chaitanya Charan Bysack was Sovaram's cousin, who was also a successful businessman and dealt with the East India Company during 1750's. His Office was called Baithak Khana. The general public used to gather here to discuss socio-political issues. The road which led to his office was called the Baithak Khana Road and it still exists today. During Rath Yatra, the chariot used to travel through Bowbazar Street. Along its way, there were fairs and villagers assembled to be a part of the grandeur. During the festival, the chariot used to be kept in the riverside which later came to be known as Rathtala Ghat.
The legacy of benevolence
Sovaram died in the year 1773A.D. He was succeeded by his two sons, Harimohan and Madanmohan.  Sovaram left behind a huge property to his heirs which consisted of thirty one houses and eight gardens. He had also left behind a successful business. From his business account, it was found that there was twenty five thousand and two hundred kilograms of cotton fabric, thirteen thousand and eight hundred kilograms of yarn, hundred kilograms of silk, three hundred and ninety four kilograms of salt, eighty nine pearls, four hundred and thirteen diamonds, thirty five rubies, many gold coins and cash. He also left behind bonds worth rupees five lakh twenty seven thousand one hundred and twelve.  A remarkable sum of money and property during those days.
As per his will, he donated rupees thirty seven thousand six hundred and seventy five to priests, rupees three thousand for their higher education, he also donated religious scriptures like Ramayana, Mahabharata and Bhagavad Gita worth rupees fifteen thousand. He gave rupees three thousand for building a bathing ghat. He donated rupees two thousand and five hundred for 'Jagannath Sadak' a five hundred and sixteen kilometer long road that was being built for connecting Calcutta from Jagannath Ghat to Jagannath Dham in Puri, during the late 1700's for the pilgrims. He also donated rupees one hundred and twenty five for building Kalighat staircase.
Read about his legacy that continues till today in our final Episode 4!