The naming of some important places and some interesting proverbs that still finds a place in today's Kolkata.
Gobindapur
Sovaram's ancestor Kalidas Bysack was amongst the first few businessmen to settle in Kalikhetra, the area around Kalighat temple in 1537. He had placed his household deity, Govinda jeu in his house. It is said that from his household God's name the locality was named Gobindapur. Later, Gobindapur developed into a village as many merchants started settling there. Since, Gobindapur was a low-land with less drainage facility and frequent water logging, a popular proverb in Bengali—"dhardhare Gobindapure" meaning remote area came to be known. The proverb is still used commonly by Bengali's today! It is here that the New Fort William was built later and still exists today.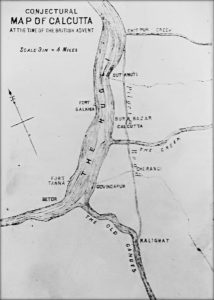 Shyambazar
ShyamBazar was also named after his home deity Shyam Rai Jeu (Govinda). As per a correspondence in the Indian Daily News dated 24th Oct'1887, Sir Holwell had changed the name of Shyambazar to Charles Bazar. On request of Sovaram, the name was again changed back to ShyamBazar and the water body beside it was named as Shyampukur. Although the water body no longer exists today, but both Shyambazar locality and Shyampukur lane exists.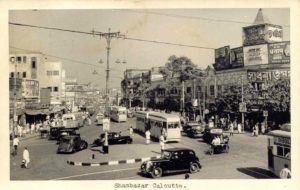 Sovaram Basak Street
The lane, where Sovaram's house (Kachari Bari) was situated, has been named after him and is called Sovaram Basak Street, in Barrabazar. This lane joins Kalakar street and Maharshi Devendra Road. There were two more roads in his name in Kolutala opposite to medical college. As more than one street in the same name would confuse people they were renamed to Debendra Mallick Street and Sagar Dutta Lane by the Calcutta Municipal Corporation. Presumably, Sovaram had houses in these localities as well, due to which these roads were initially named behind him.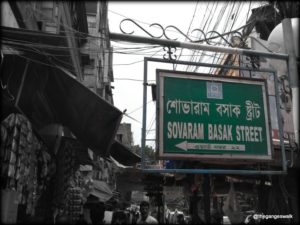 Bowbazar 
On Lt. Col. Mark Wood's map of 1784, the portion of the eastward road from Lal Bazar to Acharya Jagadish Chandra Bose Road – was shown as Boytaconnah Street (Baithakkhana Road). Through this road, Sovaram's Rath Yatra (Chariot) traveled. Bow Bazar is commonly said to be a distortion of Bahu Bazar or "Bride's Bazar". It is said that Sovaram's dauther-in-law had a bazar as a share of her property and this bazar was commonly referred to as Bow Bazar. Subsequently, that road was renamed Bow Bazar Street. Currently the road has been further renamed as Bepin Behari Ganguly Street. However, the locality continues to be called Bow Bazar.
 Sovabazar
In 1658, when Kashimbazar became the hub of business, a yarn market existed in Kolkata called "Sutanuti,"— suta- meaning yarn and nuti meaning bundle. This is where the weaver's community lived and where the traditional yarn market existed. Yarn dealers lived mainly on the port of Saptagram and when Saraswati river which flowed beside it started drying, the port became dysfunctional and the weavers migrated to Sutanuti.
Sovaram Bysack owned a huge plot of land in Sutanuti, where he had a textile workshop. The land where presently Sovabazar Raj Bari exists also belonged to him. It was a marshy land then, where villagers cultivated vegetables. With time, it became a market place (Bazar) where the cultivated vegetables, textiles and clothes were traded. The Bazar and the locality came to be known as Sovabazar. Sovaram used to control the prices of clothes and vegetables in this Bazar.  Later, Govindchand Bysack, the grandson of Sovaram Bysack, handed over the land to Naba Krishna Deb of Sovabazar Rajbari, and the Bazar shifted to Chitpur Road.
Motijhil
Sovaram also made a garden house in the name of his home deity Gopal Lal Jeu (Govinda) in Cossipore. This Garden became famous with the name of this god. The legacy was continued by his sons and grandson sons.  His great grandson, Radhakrishna Bysack was appointed as the Dewan of the General treasury of East India Company. He was a noble man and was loved for his generosity. He was a wealthy man and used to help people by paying off their debts. During that time he had spent 9 lakhs for his father's last rituals. On his request the British had sanctioned twelve days leave during Durga Puja to all Indian Employee. Due to his philanthropic nature he also auctioned Sovaram's garden in Cossipore which was known as Gopal Lal Jeu's Garden. Motilal Seal had bought the property and now it is known as Motijhil which is still present.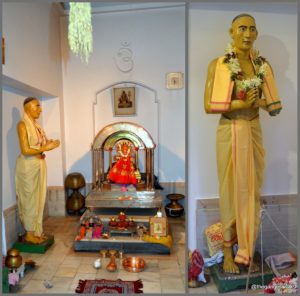 Sovaram's legacy of benevolence was also carried forth by his successors. The fabric of time has only added depth to the "fragrance" of this clan. From a successful business family it today boasts of an equally illustrious cultural heritage.
---
Reference
Tantabanik Jatir Itihas
Kalikata: Sekaler O Ekaler(1915), Harisadhan Mukhopadhyay
Kolikata Darpan Vol-I, Radharaman Mitra
Kolkata Darshan
Kolikata Tin Shatak
Bangadesher Itihas 2nd version
Kolkata Pubashree Patrika , Jagganth Mandir, 19th May 1985
Calcutta in modern history
Old Calcutta Cameos, B.V.Roy
Calcutta Old and New, H.E.A Cotton
Sovaram Bysack Article, Shyamal Das